My first day working on this magazine coincided with delivery of the debut print issue. I still remember flicking through the finished product, absorbing all of the interviews, and marvelling at the fact that I would soon be contributing my own articles to this exciting new magazine.
I was absolutely smitten with my job. As a keen and fairly green investor, I'd already bought and sold a few apartments. I was blown away by the fact that I could profit an annual salary – or more – by simply buying a property and then selling it a little while later. At the time I had no strategy, and little concept of boom or bust cycles. I was about to get the education of a lifetime!
Over the past 12 years, as a journalist and eventually as the editor, I've covered just about every property topic there is to cover. I've interviewed experts about the state of the economy, the best locations to invest, the strategies our readers should follow (or avoid), and the finance trends they need to navigate.
But by a country mile, my favourite interviews and interactions have been the ones I've had with you, our readers. Chatting with real investors and learning what you're doing in the market, where you're buying, the results you've achieved and how property has changed your life, never fails to inspire me.
One of the very first couples I interviewed in 2007 shared that they were able to invest in three properties, which helped them pay off their own home and put their daughters through private school. Their combined income was just $50,000. That was the lightbulb moment for me, when I realised, well, if they can do it, then truly anyone can.
The game may have changed since then, but I still truly believe that anyone can build their wealth and get ahead financially through real estate, with the right strategy and guidance. And with any luck, our magazine can help you on your journey.
Here's to the next 150 issues!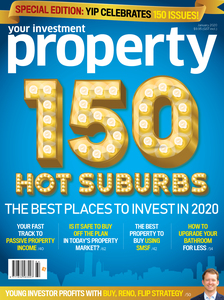 Our 150th issue is a bumper spread including 150 hot suburbs to invest in 2020; strategies to generate passive income; a profit-driving bathroom renovation; and success stories to inspire.
Pick up the January 2019 edition of Your Investment Property magazine, on sale at news agencies and Coles supermarkets from December 5th, or download the magazine now.