Cherie Barber answers a reader question about how to pick the right agent to sell your property, and what to look out for.

Q:
You've renovated your property and now want to sell it. Who should you hire and how do you find the best agent to get you the maximum price?
A:
Just as I often say your renovation is only as good as the tradies behind it, the price you get when you sell that property will have a great deal to do with how good your selling agent is. Who you entrust this all-important task to could mean the difference between a speedy sale with tens of thousands of dollars, or more, in additional profit – or a property that languishes on the market for weeks and ultimately suffers a discounted sale.
In the era of social media, real estate websites and 'virtual viewings', it's certainly worth fine-tuning your radar to become aware of good and bad agents. There's plenty of information out there, if you go looking, so keep your ears and eyes open! A sound reputation and a high profile aren't a guarantee of excellence, but it's certainly a more promising lead than an agent who is full of the talk but has little to back up their grandiose claims.
So let's run through just a few of the checks you can do to find the best agent for your property.
1. Who's who in the zoo?
An agent with just a handful of buyers on their books isn't going to be able to offer you much in terms of networking and contacts.
And if they're not well established, with a demonstrable track record in local sales, then they probably won't have the necessary experience and knowledge you're after. If you don't already know who the prominent agents are in your area, then that's the first thing you need to find out.
Scan through the local listings on property websites; ask around – you want to get together a shortlist of who the main players are (not just the main agencies but the key names at those agencies) so you can start your due diligence.
2. Who comes recommended?
Within property investment networks, you'll come across word-of-mouth recommendations, blogs, forums and other avenues of useful information. Neighbours, colleagues or friends may have personal experiences or third-party 'intell' to pass on. Merely typing an agent's name into a search engine will turn up interesting snippets. Then there's sites like Open Agent (www.openagent.com.au), where you can enter a postcode and it brings up all the agents in that suburb, along with information such as how many properties they've sold in the past 12 months, and customer reviews of that agent. Use a combination of sources to draw up your shortlist.
3. Interview potential agents
Now it's time to get them in for a grilling. Just because they have a reputation as 'the best' doesn't mean they're the right match for you and your needs. A property listing is incredibly valuable to an agent (2% commission on a $2m sale is nothing to be sneezed at), so it's perfectly reasonable to put potential agents through the paces.
Quiz them on facts like:
● how long they've been working in the area
● how many properties they've sold in the past 12 months
● how many active buyers they have on their database
And test their knowledge of the suburb and market conditions. What streets or pockets are deemed the best or worst? What's the current state of the market? If they deserve their reputation, they will be able to rattle the answers off the top of their head and speak with authority. A good agent should be able to immediately tell you what your property is worth.
4. Are they a good communicator?
OK, so you're satisfied with their bona fides, but are they someone you have confidence in? How do you rate their communication skills? Do you sense that they would be a skilled negotiator? Would they go the extra mile for you?
5. The devil is in the detail
If they've ticked all the above boxes, now you're down to the nitty-gritty. You need to nail important facts like:
● price expectation
● auctionvs private treaty
● components of marketing campaign
● commission price
● length of agency agreement
How well they listen to your requests and the expertise they bring to the table should help seal your decision. And it's better to sign shorter contracts that you can renew rather than locking yourself into a longer contract that you can't get out of if you're unhappy with the agent. And then that would be the end.
6. Do a reference check
When you've decided on an agent, as a final check I recommend asking to speak to their last two or three clients. If you find yourself talking to happy campers, then the odds are looking good that you've found the best agent for the job.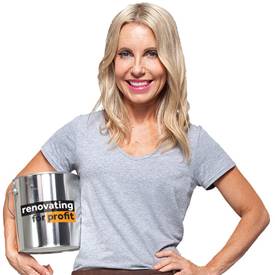 Cherie Barber
is the director of Renovating For Profit,
a company that teaches everyday people how to
buy and sell/rent old properties for a profit.