TV renovator Cherie Barber answers three readers questions about the golden rules of for renovating for profit, setting reno budgets and the effects of wallpapering.
KITCHEN RENO BUDGET
Q
: How much do you think you need to spend on an average kitchen renovation? What are the areas where you can save money?
A
: To be honest, 'average' is a bit of a meaningless term when it comes to kitchen renovations, because there are just so many variables, such as size of the kitchen, quality of finishes and appliances selected, and whether you want to rejig the layout, which invariably bumps up the labour costs. It's not unheard of for a high-end property owner to splurge $50,000+ on a luxury, state-of-theart kitchen.
That said, $7,500 to $12,500 is a good ballpark to budget for the average Joe (or 2% of your property's current value, as a general rule).
There are plenty of ways you can save money. Using resurfacing products such as specialty tile, cabinet and appliance paint, and even benchtop resurfacing, achieves amazing results on a ridiculously low budget, but it's not for everyone.
The next step up is to look at whether you can get away with keeping the existing cupboard carcasses (if they are still in sturdy shape) and just replacing the cupboard and door fronts. You'll probably want a new benchtop and sink as well.
If you've decided to ditch the lot and start from scratch, then sticking with the current layout will save on additional plumbing and electrical costs. Look at flat-pack kitchens over custom-made, and invest time hunting down bargains on appliances, benchtop, tapware, lighting… You can save thousands right there.
Tiles are really on-trend at the moment, which is great news for budget renovators (expensive glass splashbacks used to be compulsory for any chic kitchen). Tiles can be picked up very cheaply and lend real wow factor to a kitchen. If you think you're up to the task of project managing the renovation yourself, which means employing and overseeing the individual contractors like the electrician, plumber, tiler, cabinetmaker, etc, then you're really talking big savings. It all depends on the time you have to invest, the level of responsibility you're willing to take on, how much you trust your creative and organisational abilities, and the budget you've allocated.
RENO DEAL-BREAKER
Q:
What are some of the things that rule out a prospective property for you? Are there any absolute no-nos or does it all depend on the individual property?
A:
There definitely are no-nos! They are what I call 'buyer objections' and I wouldn't invest any time further investigating a property that had one of these black marks against it. That's because no amount of clever renovating is going to overcome these permanent negatives. You'll probably pick up the property much cheaper than market average because of a major buyer objection, but guess what – come time to sell, there will be a swag of potential buyers that won't even give it a look-in, and those that do, will probably be looking for a discount, just like you did. And the negatives will be a similar turn-off for renters, which is not great news for an investment property.
Some of my buyer objections are:
• a property on a main road (who honestly chooses to go to sleep to the sound of thundering traffic and squealing brakes?)
• close proximity to overhead powerlines or an electricity sub-station (whether they're a health hazard or not, there's the public perception that they are, which is enough to put off buyers and renters)
• right next door to a school or recreational oval (the sound of cheering crowds and raucous school kids won't be a novelty for long!)
There are plenty more on my list, but I think you get the picture. If you can't fix it, don't buy it. Trust me, these properties are not the bargain they might first appear to be.
WALLPAPER, YES OR NO?
Q:
A few of my friends have started using wallpaper recently and I wonder if I should consider using it in my rental apartment. Will using wallpaper date the apartment once it's out of fashion?
A:
I woud never use wallpaper for an entire apartment, but a feature wall here and there can be a real eye-catcher. New-generation wallpapers are not expensive (the cost is in the hanging) and come in every pattern imaginable. For a rental apartment, I'd be looking at something subtle, that still draws in the eye. Thinka wall at the end of a hallway or just one wall of a bedroom or living room. And really, who cares if it dates in five or 10 years' time? Removing wallpaper from a wall here and there is hardly going to break the bank.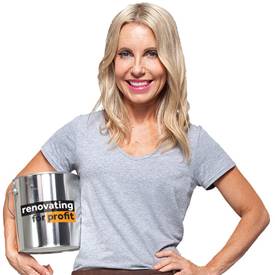 Cherie Barber
is the director of Renovating For Profit,
a company that teaches everyday people how to
buy and sell/rent old properties for a profit.