Leading reno expert Cherie Barber answers questions about how to do your research, what external renovations to do, and whether you should style your property or not before selling.
WHAT INFO IS MOST IMPORTANT?
Q
: I'm looking at buying an investment property but am overwhelmed by all the research 'the experts' tell me I need to do. Is there any particular source you would recommend I consult in order to get a good overview of good suburbs to buy in?
A
: To be honest, if it was that easy, everyone would be making a motza from buying and selling property! There's no magical 'one source' that will give you all the information you need to pick a sure-fire winner suburb that ticks all the boxes. Unfortunately, there's no substitute for putting in the hard yards to research, research, research … and that can take weeks or even months to build up an accurate picture of what is happening in the market. The more sources you gather your information from, the more complete a picture you have.
For specific stats on what is happening in any one particular suburb (number of sales, prices, average time on market, etc), you can subscribe to or buy one-off reports from companies like RP Data or Australian Property Monitors.
Publications (like this magazine) report on current trends, forecast 'hotspots', and provide general commentary on what is happening in the market around Australia. My only cautionary advice here would be to try to rely on more than one publication; for a balance of opinion, it's good to subscribe to a couple of different ones, then sift through the information to build your own picture of trends and forecasts.
There's also loads of free information you can get simply by trawling the internet. Council websites can tell you a great deal about what is happening in suburbs you're interested in, including current and future infrastructure plans and what the planning laws are in that particular area. All the major real estate sites are a mine of information. In addition to listing properties for sale, they have demographics, suburb profiles and some basic information on recent sales and market trends.
I could go on, but the trick is to gather intelligence from as many sources as possible, then put it all together to see what's really happening in that suburb, both now and over the last five to 10 years. When you put the local real estate agents to shame with your knowledge, you know you've done your homework.
EXTERIOR MAKEOVER FOR STREET APPEAL
Q
: I want to do a quick exterior makeover of my property without blowing a fortune. Any tips?
A
: Nothing achieves fast, highly effective results like a brutal declutter and radical clean. You could consider all kinds of creative and potentially expensive improvements like painting and paving, but for a quick fix, roll up your sleeves and target eyesores like garbage bins in the front yard, cobwebs on the verandah, piles of leaves, clutter left lying around … anything that detracts from the street appeal, get rid of it. If all the surfaces are only mildly dusty and dirty, you can probably get away with a good hosing down of everything. However, for a transformative clean that takes years off a building, hire a high-pressure hose and give all the hard surfaces a rigorous going-over.
Then turn your attention to the garden, trimming back unruly garden beds or bushes and giving lawns a dose of fertiliser so they look lush and healthy. When you've stripped away everything that shouldn't be there, then you can add. Maybe a glazed urn on the front porch, a new letterbox or house numbers, or perhaps a few strategic uplights to light up a feature tree or path. You shouldn't need to spend more than $100 total if you shop smart.
PROPERTY STYLING OR NOT?
Q
: We're about to sell our investment property, which is currently tenanted and does not present well at all, so we've given the tenants notice to vacate (the lease has expired). Our dilemma now is whether to sell the property vacant or get professional stylists in. What do you recommend?
A
: Go for the property styling. It will create a 'feel good' factor that a soulless, empty property certainly won't. It will show buyers how they can furnish the place and use every nook and cranny to its full potential. And it nearly always delivers a generous return on investment, often adding tens of thousands of dollars to the price a property fetches. That's my experience anyway. I wouldn't dream of selling a property without the help of a professional stylist.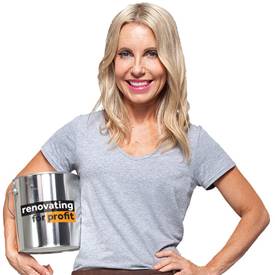 Cherie Barber
is the director of Renovating For Profit,
a company that teaches everyday people how to
buy and sell/rent old properties for a profit.