15/02/2018
Paul Smith came into the property game looking to play it safe. A plumber by trade and the owner of a small to medium-sized plumbing company, he had been seeking a way to make some investments that would ultimately allow him to get out of the rat race.

"I believe that property investing, when done correctly, is the safest way to invest," he says.
"My wife Sandie and I wanted to build a diverse portfolio that would perform during all financial seasons and set us up for early retirement."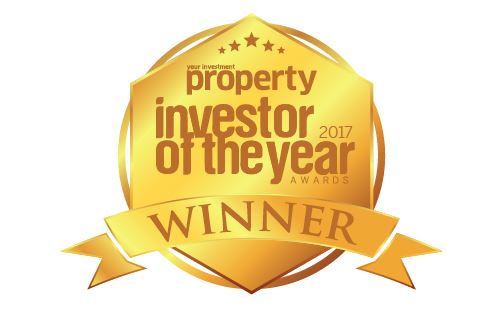 AT A GLANCE
Years investing: 5
Current number of properties: 5
Portfolio value: $2,599,000
Paul started his journey by attending property investment seminars. Unfortunately, he learned the hard way that many of these so-called free-information nights are simply a way to get unsuspecting, naïve investors through the door and use manipulative high-pressure sales tactics to influence people to buy product.

"I believe that dealing with client-focused professionals, both brokers and planners, who can not only assess our situation and tell us our borrowing power but also identify risks prior to investing, is very important," he explains.
Paul's first investment property was actually his first personal home in Currens Hill, NSW. After he and his wife, Sandie, moved to Harrington Grove in Harrington Park, NSW, they realised that there was value in keeping the Currens Hill house as a rental property, and made their very first foray into investing.
Limiting costs
Paul went on to buy four more investment properties in NSW, Queensland and most recently Victoria. Buying interstate is a diversfication strategy designed to manage the risks of property investing, though Paul also asks his financial planner for a risk assessment statement prior to signing on the dotted line for a new property asset.

In the process of obtaining advice, Paul was also able to determine that a good strategy for him involved purchasing new properties that were less than three years old.

"By buying new, we are not affected by new depreciation laws, we have no maintenance costs, and we attract great tenants. Not to mention [we are] saving on stamp duty on the build."

He chooses to look into house and land packages so he can build the properties himself, or dual-occupancy properties located in growing suburbs.

"We look for 4–5% rental yield, quality builders and value for money," Paul says.

He also seeks out dwellings near amenities in order to maximise value. A property that's either within or just 10km from a CBD is ideal, especially one near schools, public transport, shops, recreational spots and hospitals.

"We don't buy in high-risk areas such as boom towns or areas with a low socio-economic population. We aim for areas with high principal place of residence ratios."

To determine growth potential, Paul looks at past capital gains figures, as well as changes in the median prices. He also compares the prices and rental returns of properties in the same area.
"We purchased a property in Harrington Park, NSW, for $420,000 back in 2014, and it was valued just recently at $750,000. This property is located within walking distance of the new Narellan town centre, with restaurants and nightlife as well as schools, lakes and a nearby shopping village," Paul says.

WHAT DID THE JUDGES SAY?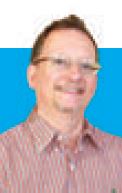 "I like that his approach is driven by numbers, and his clear strategy that comes with it. He has good knowledge of investments and surrounds himself with good people. Best way to avoid mistakes!"
Philippe Brach
CEO of Multifocus Properties & Finance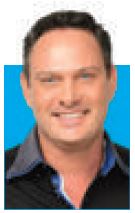 "Paul has a very well-thought-out strategy, which includes a rating system to assess properties. This is a very good idea and takes away the emotion when investing in property"
Tyron Hyde
Director, Washington Brown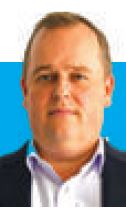 "Paul's portfolio will have great ongoing depreciation advantages and low maintenance costs, being all new builds. Clever purchases across three states will ensure that the risks associated with these investments are well diversified. Overall, a sound, balanced portfolio"
Clint Greaves
CEO, Real Estate Investar



PORTFOLIO TIMELINE
2007 - Buys a property in Currens Hill, NSW, for $330,000
2014 - Makes his most successful deal in Harrington Park, NSW – a house and land package that appreciated by $330,000
2014 - Purchases a commercial unit in Minto, NSW
2015 - Buys first interstate property in Leichardt, Qld
2016 - Succeeds Graham Mirabito as CoreLogic's managing director in Australia and New Zealand
2017 - Purchases second interstate property in Sunbury, Vic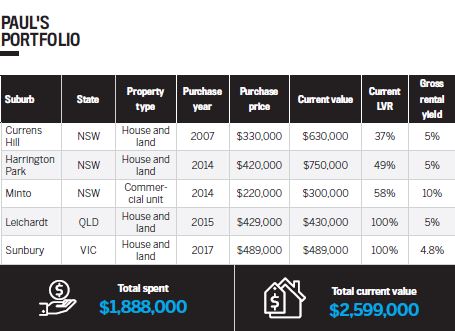 Getting the right advice
While his mentors helped a great deal, Paul didn't always get the best advice from his sources.
"Our biggest mistake was attending property investment seminars that turned out to be run by high-pressure spruikers," he admits.

"We found out the importance of dealing with client-focused companies as opposed to product and commission-driven spruikers that exist in the industry. We also learned there is no such thing as a perfect investment or a once-in-a-lifetime opportunity," Paul explains.

"We aim to get to the truth of whether a product is right for us and our current situation, and ensure we deal with qualified professionals every step of the way. We use a lawyer to conduct the sale of the property and sign off on legal docs for our protection, and ensure all contracts are subject to finance."

For Paul the best way to manage risk is to have the right people on your team, who work with integrity. A team member he's found to be very useful is a good property manager.

"The last thing you want when you have a larger portfolio is to have to stress about maintenance and tenants. Much like an entrepreneur, you need to learn to delegate," he says.

"There is a saying in the business world: 'Work on your business, not in your business'. I believe this is true in property, too."

Creating wealth
Though Paul has spent most of his investment journey looking for properties close to home in NSW, he has also enjoyed branching out into other parts of the country.

"Sydney is at the top of the property clock at the moment, meaning prices are very unaffordable and rent returns didn't stack up," he says.

Instead of searching for the perfect deal, he seeks out diverse, well-researched opportunities.

"By looking into Queensland and Victoria, for instance, we were able to continue to invest without maxing out our borrowing power or becoming cash flow negative. We also believe strongly in diversification and didn't want all our eggs in the New South Wales basket, Paul says.

At present, his portfolio is well on its way to performing effectively through all seasons, bringing him closer to his goal of early retirement.

Paul has also diversified in a business sense, after beginning working with entrepreneur David Pascoe in 2015. "He has been a huge help and mentor. I have since bought into his company and am a proud franchisee of Buy Australian Properties.

"I have a great desire to grow wealth for my family, and this also allows me to fulfill my passion of helping others safely invest."

Congratulations to Paul Smith
, our 2017 New Investor of the Year award winner;
Sally Lewis
, our 2017 Reno Investor of the Year award winner; and
Crystal Palmer
, our 2017 Strategic Investor of the Year award winner! Our three winners each take home an amazing prize pack worth more than $5,500 per person, including:
- A $500 eftpos® card from DHA Australia
- $500 cash from Multifocus Properties & Finance
- A 12-month subscription to CoreLogic's 'RP Data Professional Investors Package', which offers subscribers unlimited insight into every available property, street and suburb in their selected state. Valued at $1,620 each
- A full 12-month Real Estate Investar 'Pro Membership', which allows subscribers to manage, track and optimise their portfolio's performance with powerful and easy tools. Valued at $1,490 each
- A Residential Depreciation report from Washington Brown QS, valued at $770
- A copy of the bestselling book Creating Property Wealth in any Market by Philippe Brach. RRP value $24.95
- A 12-month subscription to Your Investment Property, and a selection of our bestselling special reports and e-books, valued together at $889.85.