For more than two decades, Debi Slinger supported her husband's career – until her world was turned upside down when she suddenly found herself a divorcee at age 52.
"I was renting a small home with my three children, then aged 14, 12 and nine. I hadn't been in full-time work since before my eldest child was born, as I had fitted in casual work around my thenhusband's career. So I needed to find a job, and fast," she says.
A month later, Debi found parttime work; within a year, she'd made her return to nine-to-five work in a job that offered "security, flexibility and prospects". However, after the divorce settlement, she only had $180,000 sitting in her bank account, and Debi knew that this, coupled with the $60,000 in her superannuation, wouldn't be enough to see her through retirement.
"I started to investigate ways to maximise the lump sum I had in my bank account. A friend recommended that I speak to a property portfolio strategist, and I attended a number of her seminars. With a background in law and having previously bought and flipped property, I knew the potential of property investing and the legal requirements and obligations," Debi says.
Her limited income and status as a single mother with three children kept her borrowing capacity low. Nonetheless, Debi was determined to get a start.
"My borrowing capacity was restricted to purchasing property at an entry level. But my focus was to get my foot in the door then see how things unfolded from there," she says.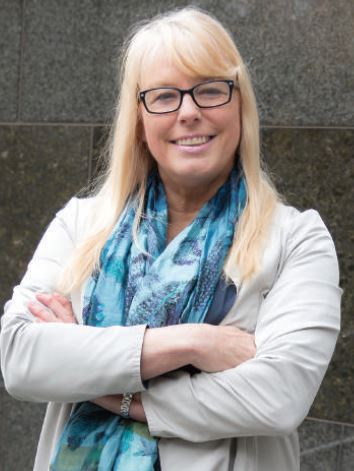 AT A GLANCE
Years investing: 5
Current number of properties in portfolio: 4
Portfolio value: $1.83m
Finding herself
It was a bumpy road at the beginning, as Debi struggled to find her identity as an investor after stepping out from the shadow of her marriage.
"For a short period of time, I was second-guessing how I'd mapped out my future. Being divorced, many of my friends saw me as 'broken' and therefore assumed I wasn't able to make good financial decisions. I allowed their negativity but also their own opinions on property investing initially influence my strategy," she admits.
"It took a few 'opinions, not fact' comments for me to realise that everyone is an expert on property, but not an expert on my property."
To address the holes in her game, Debi set out to educate herself on all things property investment – finance, taxation, depreciation and legal matters.
"I kept up to date with trends in the marketplace, how the banks were lending money and how to use a spreadsheet to track my progress. Ultimately, it wasn't a huge investment in my time but did require commitment and dedication," she says.
Research became Debi's strongest tool, and she wielded it to great effect in building her portfolio.
"I'm not one to listen to hearsay and scuttlebutt. For me, any decision needed to be backed up by real data and research. I've never underestimated the power of research and data from professional and trusted resources," she says.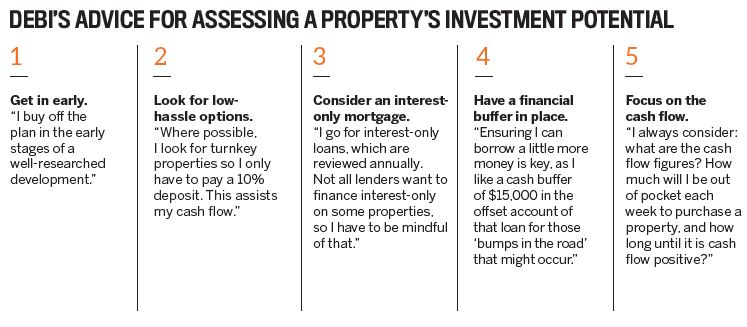 Debi cites her Ballarat investment, purchased in 2018, as an example of how information guides her purchases.
"Since I purchased the house and land package, the land value has increased. I know this will slow over time, but the research showed that it wasn't a matter of just buying anywhere in Ballarat, but right down to which side of the road I purchased as zoning for the high school came into play," she says.
Location is key, as it's one of the crucial ways Debi manages risk.
"I look to buy in areas that have steady growth, where there is excellent infrastructure, such as schools, churches, public transport, small businesses, medical facilities, retail areas and more," she explains.
"All of these plus more add up to good supply and demand, a growth in population, increased employment opportunities, the economy increasing, and ongoing infrastructure development."
At present, she sticks to the eastern seaboard, in areas she believes have long-term potential.
"Buying along the eastern seaboard of Australia is currently a good decision, although I haven't precluded other states. As yet, the data doesn't stack up for me, but I am open to opportunities in the future," she says.
Diversification is also key, as it helps her to temper risk and strengthen the potential for cash flow. That often means identifying the right property for the right area.
"A diversified portfolio is important to me, which includes different types of properties in different areas – a four-bedroom, two-bathroom with a two-car garage in an area where there are families is a prudent choice; a two-bedroom, two-bathroom, one-car-garage townhouse in an inner-city area makes sense for the younger professionals."
"Being divorced, many of my friends saw me as 'broken' and therefore assumed I wasn't able to make good financial decisions"
Moving forward
Today, Debi owns four properties that are presently valued at more than $1.8m – an achievement she credits not only to herself but also the people who helped her get there.
"A property manager is worth their weight in gold. I'm always curious why people spend, say, $500,000 on a property but quibble over the relatively small amount of money a property manager charges to look after such a large asset," she says.
"Whether it's keeping the property in a condition that attracts good long-term tenants or managing those maintenance issues as they occur, my property managers have always been excellent and are rewarded with my repeat business and Christmas thank-you gifts!"
Debi's team also keeps her accountable in managing her portfolio.
"I am completely transparent to my property portfolio strategist, my mortgage broker and my legal representative. Without honesty, you have no integrity, and that, to me, is extremely important," she explains.
"When you build relationships based on trust and reliability, you create a team that will be part of not just your success but theirs as well."
Beyond her own thriving journey as an investor, Debi has also begun to use her personal experience to guide others.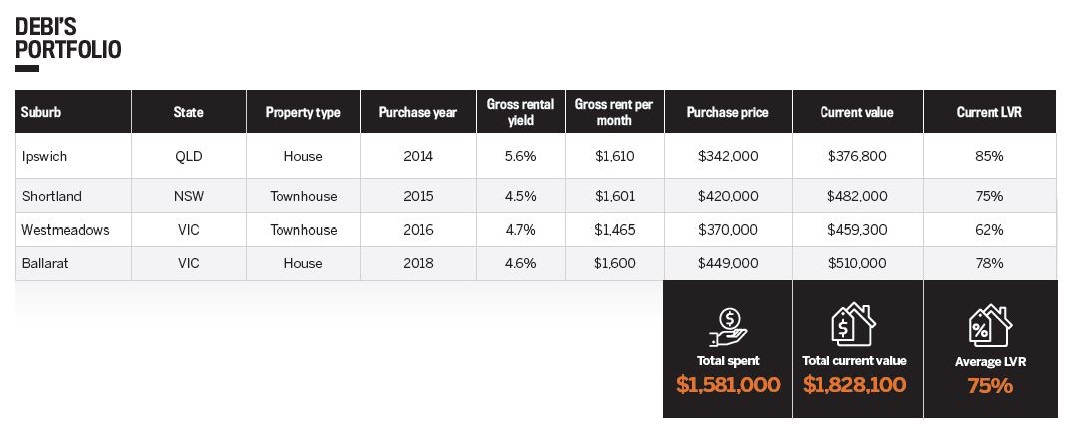 "My property portfolio strategist liked my work, and I liked her professionalism, so I recently started working for her. I help women such as myself who have found themselves suddenly single – separated, divorced or widowed – to make up for lost time and get themselves back on track.
"My children are now 20, 18 and 16, and my philosophy is 'a man is not a plan'," she adds. "Having a partner would be nice, but I'm not relying on someone else to help me out."
PORTFOLIO TIMELINE
2014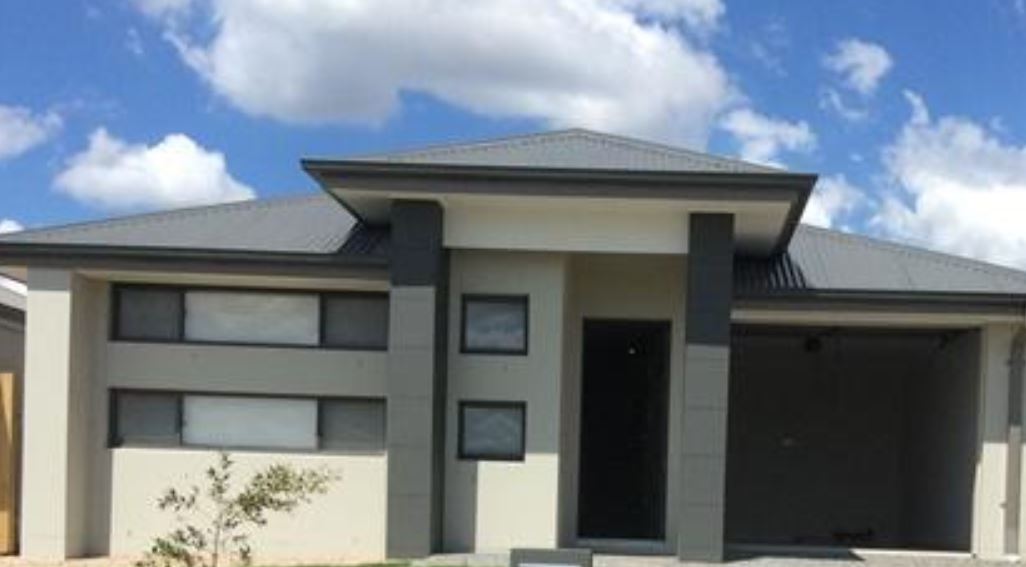 Debi's first property in Ipswich, Queensland, which she purchased for $342,000 in 2014
Suddenly single with three kids at age 52, Debi turns to property investing to establish a comfortable retirement. After educating herself, she buys her fi rst property in Ipswich, Queensland, with the aid of a property strategist.
2015

Debi went interstate for her second purchase, snapping up a townhouse in Shortland, NSW
Keeping to her philosophy to not strain herself financially, Debi's next purchase is a townhouse in Shortland, NSW, with a price tag of $420,000. She cites having a good legal representative on her team as a major reason for her easy start in buying interstate.
2016
Debi's third property in Westmeadows, Victoria, brings her closer to home. Initially purchased for $370,000, the townhouse is now valued at over $450,000 and generates considerable cash fl ow, making it Debi's most successful investment to date.
2018
Because the Westmeadows purchase is so positively geared, Debi is able to secure a loan for a house and land package in Ballarat. She selects the property carefully based on her research on which street to buy on.
2019
Debi's studious approach to the Ballarat property pays off when the land's value increases by 17% in the year after the purchase.