A job at a bowling alley led young investor Crystal Palmer into the world of real estate and renovating. After gaining some experience and learning under mentors, she struck out on her own and 14 years later has made more than 15 profitable investments
Fifteen years ago, when she was just 19, Crystal Palmer had one conversation she likely never expected would change her life.
"I was working in a bowling alley at the time. I got talking to a regular league bowler who had a few negatively geared properties, and he wanted to move away from that strategy into positive cash flow investments," she says.
Crystal hadn't been interested in real estate up until that point, but as their talk went on she found herself drawn in. She made the decision soon after to form
a company with her new friend, through which they purchased cheap houses for the purpose of renovating and leasing.
"By the time I was 23, I had learnt a lot and built on my investing knowledge, so I decided to part ways from the company. By then my boyfriend at the time was also interested in getting involved in property investing, so we decided to buy our first investment together in late 2006," Crystal explains.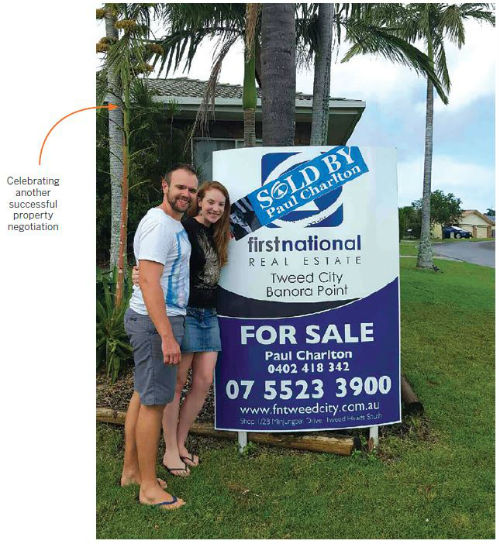 Property as a bond
Over the next five years, Crystal and her then-boyfriend took on full-time jobs and used their savings to fund the purchase of several properties. They renovated the properties during their annual leave from work, and then rented them out.
"A standard renovation for us consisted of taking two weeks' annual leave, sleeping in the house on a mattress on the floor, and renovating it 14-plus hours per day at the same time," Crystal says.
"It is emotionally and mentally draining and physically exhausting at times, working to tough time frames and then having to go back to full-time work the day after you return. They can also consist of long drives out to the properties – for us, it took up to seven hours to get to certain locations!"
Crystal and her boyfriend split up in 2011, but they continued to invest together.
"Although we parted ways, we shared the same financial goals, skill set and purchasing power between us," Crystal explains. Together, they bought a total of 16 properties.
In the latter half of 2014, Crystal moved to the north coast of NSW for work. She met her current partner the following year, and in 2016 the couple purchased their first property together in Banora Point: a three-bedroom, two-bathroom house.
At the same time, Crystal bought another two properties in her own name. One was a house that was under the hammer.
"At initial review, I thought the house would be over our price range – my first thought was that it would sell for between $120,000 and $150,000. I called the agent for a chat and explained that we were serious buyers, as I wasn't going to drive five hours for a property that didn't hit the numbers," she says.
"It was a mortgagee in possession sale. I showed up on auction day and was the only one who did! I let the house get passed in so I could negotiate outside of auction terms, and it was passed in at $75,000!
TOP BUYING TIPS
1. Do your research on your insurance policies and compare who offers what, and what is important to you to cover, such as loss of rent, malicious damage, or accidental damage by tenants. Every company offers different benefits, limits and excesses.

2. Shop around for a managing agent that works for you and has your best interests at heart. Set your expectations, ask plenty of questions as to what they would do in certain circumstances, and ensure they are great communicators. Not selecting the right property manager can cost you money and time.

3. Pick up the phone and make a call about a house, any house that catches your interest. You would be surprised at the information agents disclose, which in turn can assist you in negotiating the sale!

4. Be prepared that something at some stage will unexpectedly go wrong with your property. You must have funds set aside to be able to make these repairs at any time.

5. Where you can, look to do the work yourself when it comes to repairs and maintenance. Paying call-out fees and for labour eats into your profit.

PROPERTY MILESTONES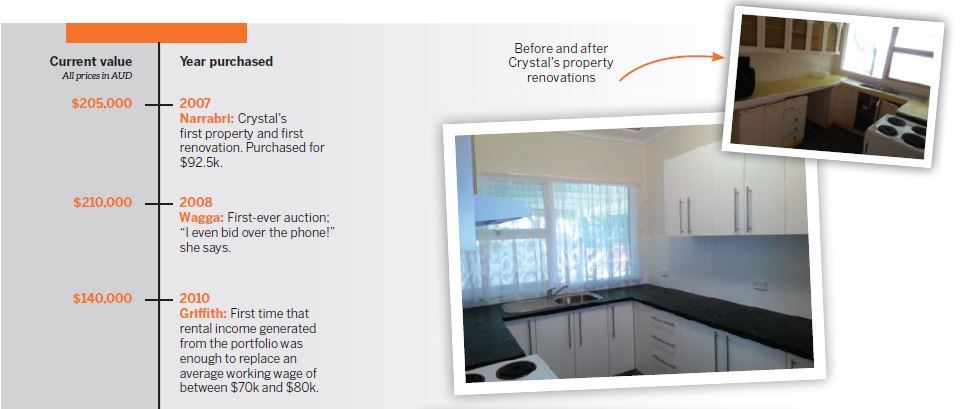 "I put an offer in of $70,000 subject to building and pest. The building report came back with [word of] water damage, and we were able to negotiate the price down by another $8,000 to $62,000."
Crystal proceeded to renovate a few key areas, including the kitchen, before promptly leasing the property out for $300 a week.
Buy cheap with high returns
In her property investment career, Crystal has stuck to a basic strategy of "buy, renovate (if required), rent and hold", with capital gain being a plus.
"In 99% of instances, I look for property priced under $150,000, allowing more funds for more future purchases," she says.
"I look for property priced under $150,000, allowing more funds for more future purchases"
"I'm on RealEstate.com and Domain.com every day to see what is out there and at what price. Potential purchases must meet a minimum of 13% rental yield and, after basic renovations, create an instant $50,000 worth of value on top of the renovation expenses."
This tactic has allowed Crystal to save more money, enabling her to add to her portfolio. Her aim is to purchase one or two properties every year, and she focuses on freeing up as much cash as possible each time she makes a purchase.
"Utilising interest-only loan options, [and] finding a good accountant who can maximise your rental deductions, has been key to my success," she says.
"I've also learnt to renovate to the level that will achieve maximum rent at minimal cost. If the numbers don't hit it, forget about it and find another property. You will find another property that hits the figures you are after."
The location of a property is important, Crystal adds, but it must be weighed up against its potential in terms of value, the strength of the rental market, risks within the area and long-term capital growth.
Work less, live more
For Crystal, property investment is about creating freedom to focus on herself – on her own targets, strategy and end goal. She considers her property venture her ticket to cutting back on the time she needs to spend at the office.
"The cash flow from the properties will allow me to reduce working hours and assist in funding an early retirement," she says.
Crystal doesn't seem far from her goal, as she currently has a net worth of $1.5m from her 18 properties – a goal she has achieved despite the fact that at times she has let deals slip past her.
"Don't procrastinate! It's one thing to do your research on property investing, and it's another thing to throw yourself into it," she says.
"If you are unsure, start with something low-risk; something at the lower end of the price scale where you can't really lose much on the purchase price if something goes wrong."
CRYSTAL'S PORTFOLIO



*Rates, insurance and property management fee plus interest