Daniel Hain was introduced to property at the tender age of 16, with some wise words from his father.
"He told me that buying houses and building a property portfolio would set me up for when I was older, and I wouldn't have to be in the trade for my whole life," Daniel says.
"I did pay attention to the fact that many older people were living week to week, and I didn't like the idea of following that path."
Daniel began saving to buy a property as a teenager, and in 2006 he made his first purchase in the Latrobe Valley's Newborough area, at just 19 years old.
"I wanted to buy something rather than just leaving money in the bank and possibly spending it. I grew up in Newborough, and the property was cheap," he says of his decision to buy.
"I had the money to buy in locations closer to a CBD, but I decided to buy in the Latrobe Valley region. That was a mistake, as the growth was much less."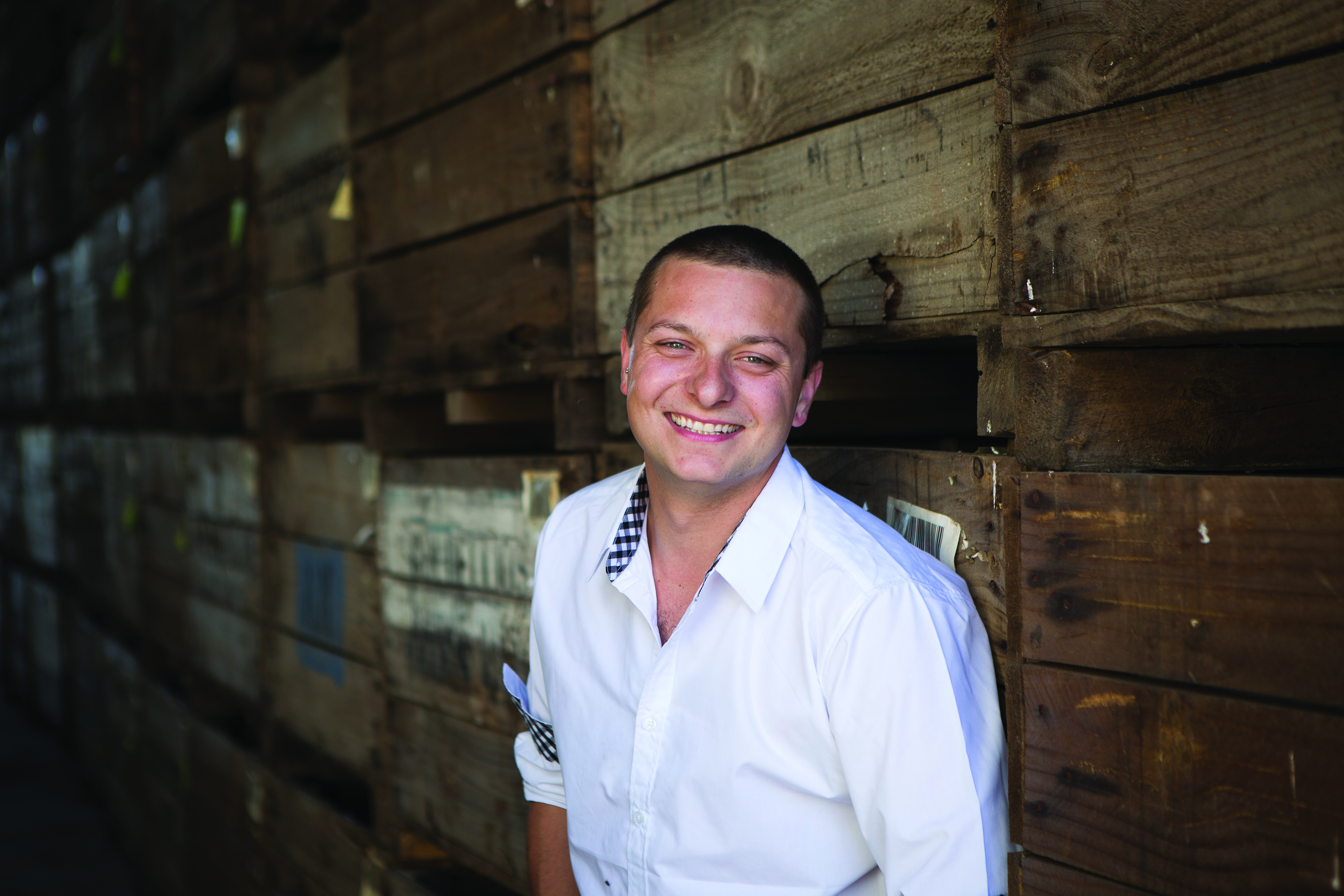 AT A GLANCE
Years investing: 13
Current number of properties in portfolio: 3
Portfolio value: $820,000
Daniel held on to this property for years before eventually selling it in late 2016. He also engaged a property advisor, who assisted him in buying a house in Gladstone, Queensland, in 2012. This turned out to be another regrettable choice, as Daniel made what he considers to be his biggest investment mistake to date.
"It was the biggest hold-up ever – it cleared out all my equity and gave me a high negative cash flow, which impacted my borrowing capacity," he says.
"The lesson from this was to not fully trust so-called 'advisors', as they can get great kickbacks from the developers on new builds."
The experience also made Daniel realise that he needed to study up on the property industry himself so that he wasn't entirely reliant on other people's tips when building his portfolio. Since then, he has made self-education a high priority in his investment journey.
"I never set goals when I started, so basically I was just spinning wheels with no direction. A massive turning point for me was getting property education. I have done several courses, actively going to property meetings and surrounding myself with others investing in today's market."
However, no investor is an island, so Daniel encourages investors to still surround themselves with a good team of knowledgeable advisors who aren't afraid to be honest.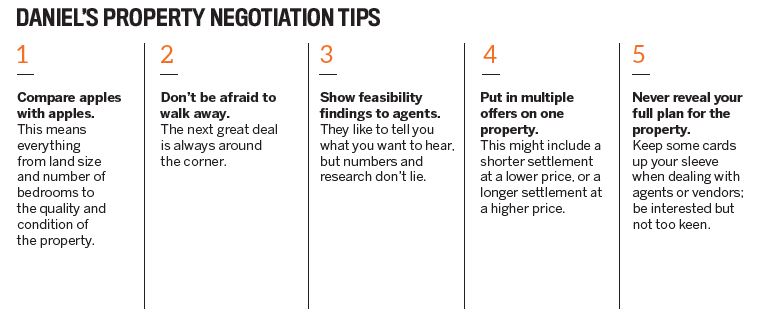 Fixing up fixer-uppers
Daniel has since been bitten by the renovation bug and has made it part of his strategy for buying and selling in order to create equity to acquire properties to hold.
"Renovations can be done quickly, and you get paid much faster than when developing," he explains.
He proceeded to buy off-market properties through letterbox drops, Facebook advertisements and by developing relationships with agents.
"Most of the houses were in very bad condition and were very outdated. They needed some serious attention. I hired good tradesmen to help put the houses together and do complete renovations," he says.
Prior to selling the renovated homes, Daniel would have them staged as well, to enhance their appeal to potential buyers.
"I made them look like display homes. Once all cleaned up, they sold very fast as they were very homely and people could move straight in."
His interest in renovation also led him to his favourite property transaction to date – the purchase of a house in Melton in late 2016.
"I had $55,000 left after I paid out a big chunk of money tied to the Gladstone house, and a borrowing capacity of $260,000. At every auction and inspection I went to, the houses were selling for over $300,000, so I was not able to find a house in my budget," he says.
Daniel was prepared to give up on the location and head further out. He also considered investing in a unit instead.
"Then I went to a seminar and learned about buying through private sales and writing letters to source your own property. So I printed out 80 letters and started walking the streets and putting them in houses that looked unrenovated."
One of Daniel's letters caught a would-be seller's attention, and he got a call for an inspection. Their initial asking price for the property was $270,000.
"I thought, 'Wow, I am so close!' I offered $250,000 and gave them 24 hours – they came back at $260,000. I gave them another 24 hours to accept my offer, and they did!"
Daniel has since renovated the property for $55,000 and profi ted from a $460,000 sale price.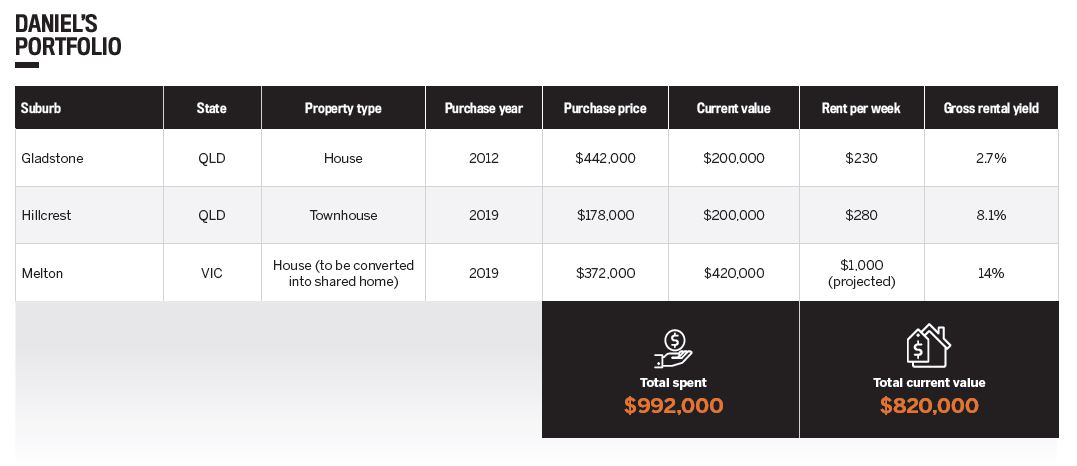 Developing throughout the journey
Daniel cites education as the key to success in his investment journey, and he aims to help others gain the same knowledge that he did.
"The turning point was when I got some guidance – the education I got led me to start investing creatively, as I was able to apply a buy, renovate and sell strategy with no loans, as well as raise capital with monetary partners. I would love to help others by showing them ways to make and not lose money via property investing."
It has been 13 years since the start of Daniel's journey, and now he aims to go further as an investor and renovator.
My most recent purchase is a house I will convert into either a rooming house or a dual occupancy, half of which I will sell. I might buy some more of these if it goes well," he says.
"My eyes are also on property development – I see that being the next challenge I want to tackle as I believe it can be a profitable strategy."
"I made my properties look like display homes. They sold very fast as they were homely and attractive, so people could move straight in"
Ultimately, Daniel hopes to use his property profits to facilitate a comfortable retirement for himself and his wife through a passive income.
He doesn't want to just keep the profits from his journey to himself, however; he has plans to share them with those in need, particular those in his beloved Thailand.
"We want to own a house in Australia and Thailand and travel the world," he says, "but I also want to be able to help my family live a much more comfortable life, without having to stress about money. My wife and I also want to help change the life of people in Thailand who are really struggling financially."
PORTFOLIO TIMELINE
2006
Daniel buys his first property at the age of 19 in the suburb of Newborough in the Latrobe Valley area. However, the suburb's growth potential is limited
2012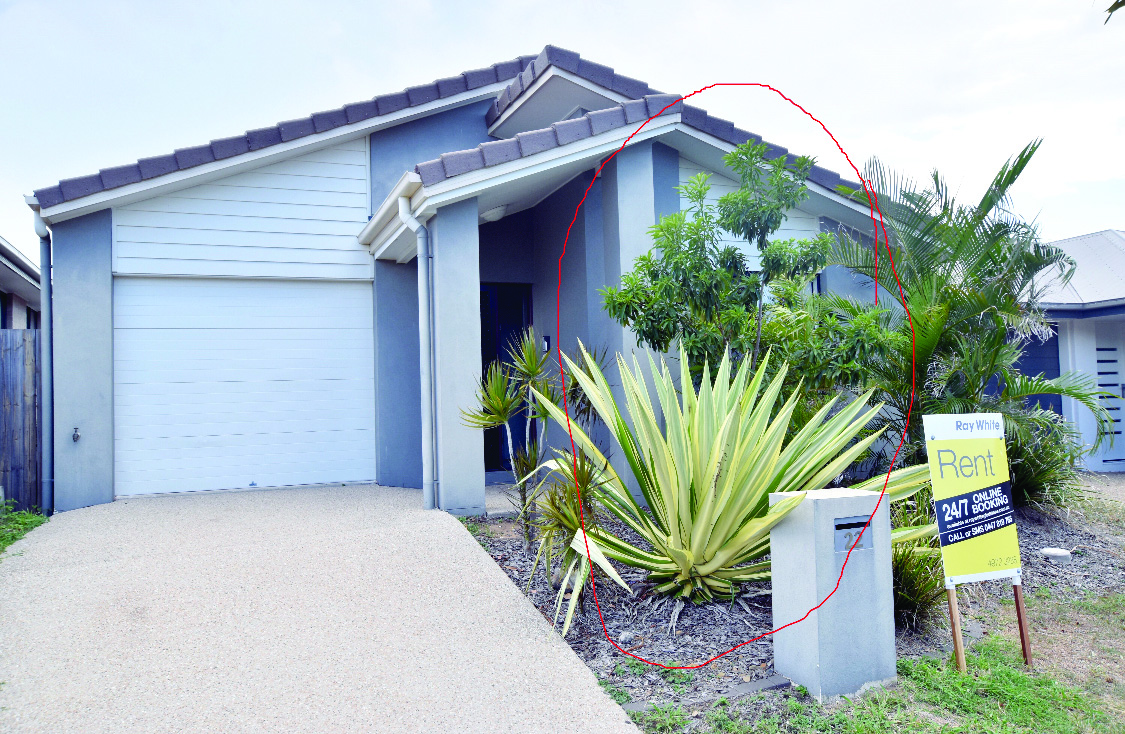 Daniel's property in Gladstone has halved in value since 2012
Having spent a number of years maintaining the Newborough property, Daniel engages a property advisor before he makes his next purchase in Gladstone, Queensland.
2014
The Gladstone investment plunges into negative growth and winds up crippling his fi nances, hampering his ability to buy more investments
2015
Daniel's costly mistake with the Gladstone property motivates him to spend the next few years educating himself on property – attending seminars and connecting with fellow investors.
2016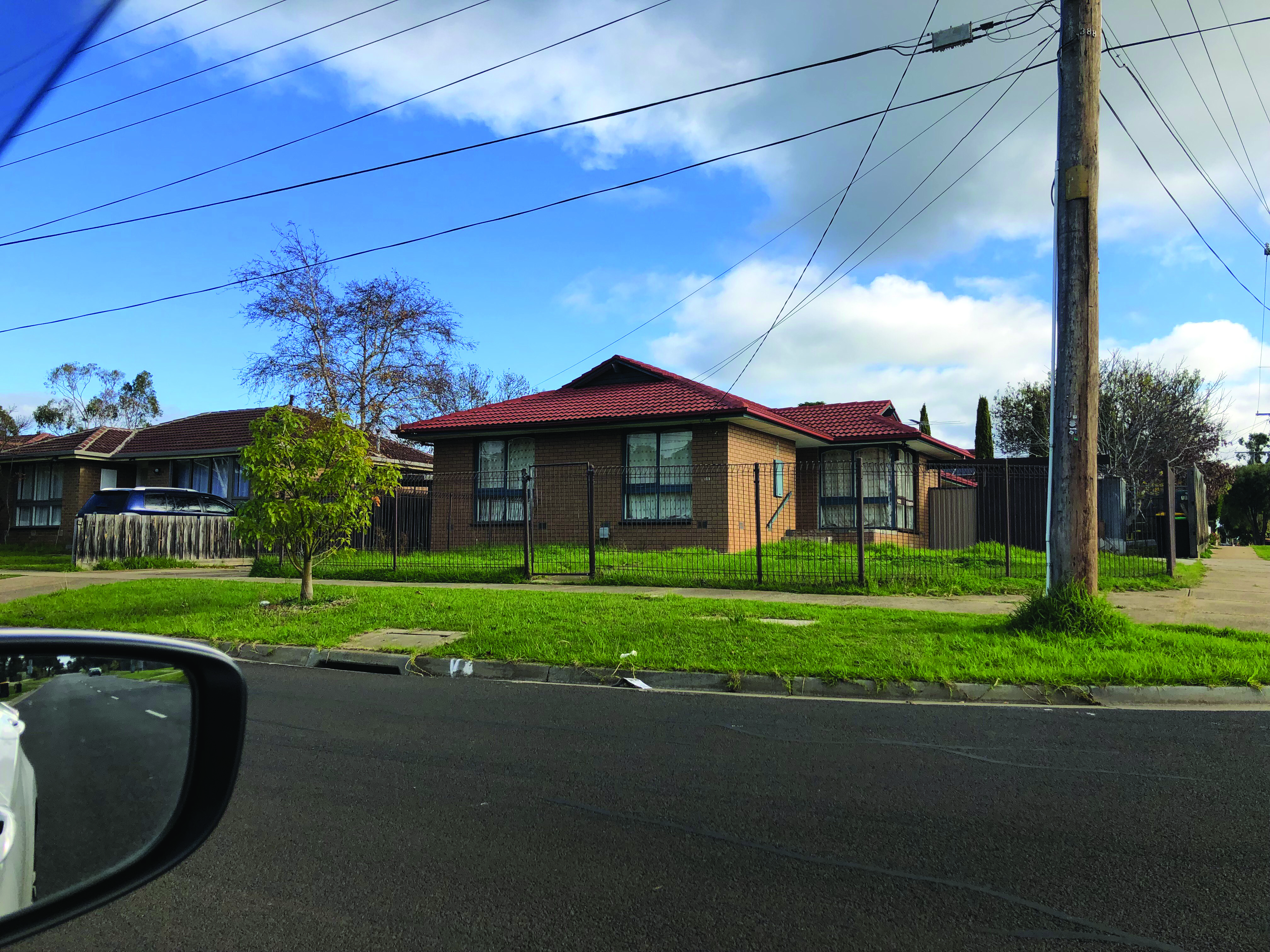 A successful letter drop resulted in one of Daniel's most profi table buys, an off -market property in Melton, Vic
He gets back on the horse with what turns out to be a brilliant deal in Melton, Victoria, where he negotiates with private sellers to buy an off -market property for $250,000.
Following an extensive yet lean renovation, at a cost of around $50k, the Melton property is sold for $460,000.
2019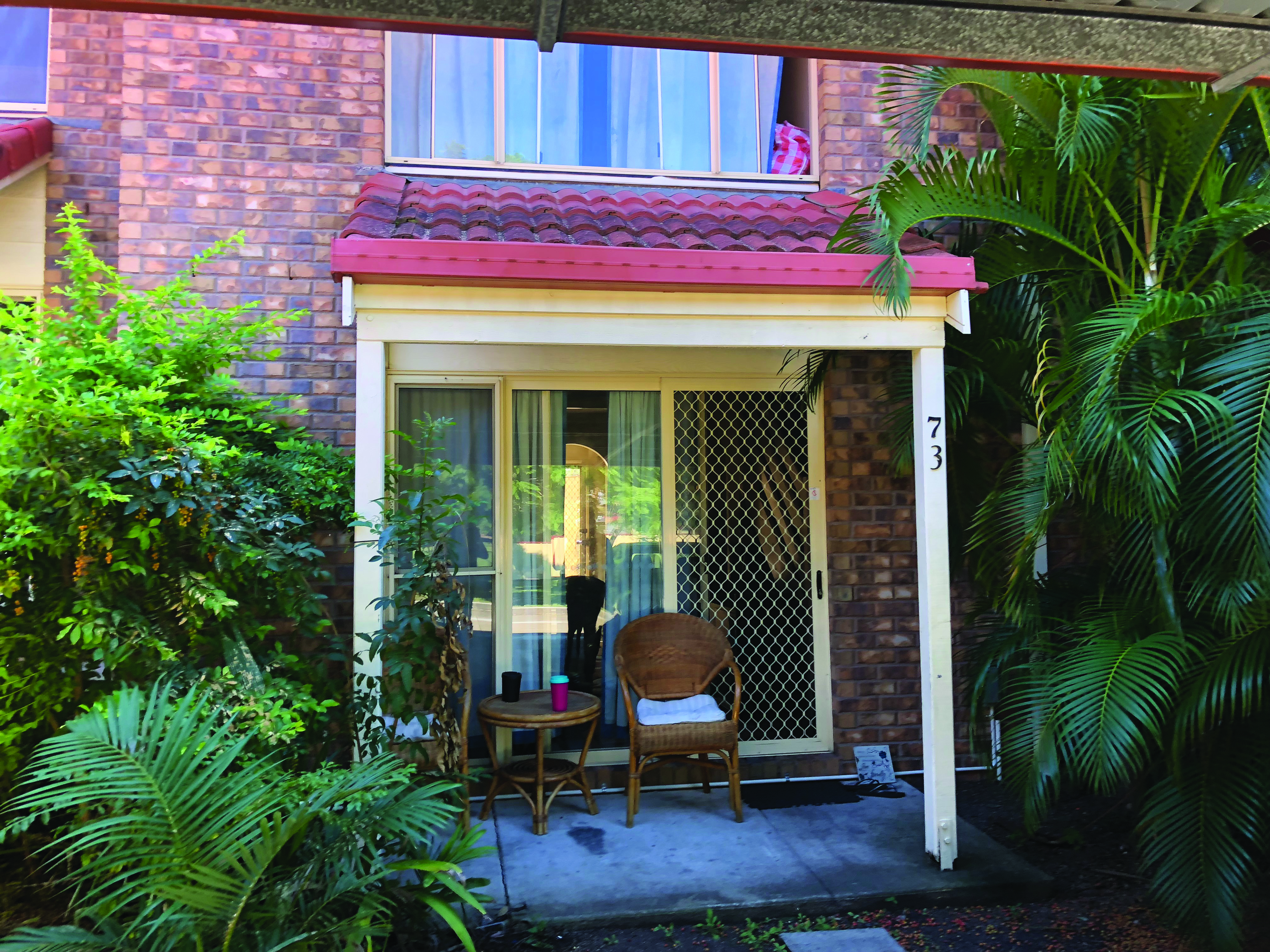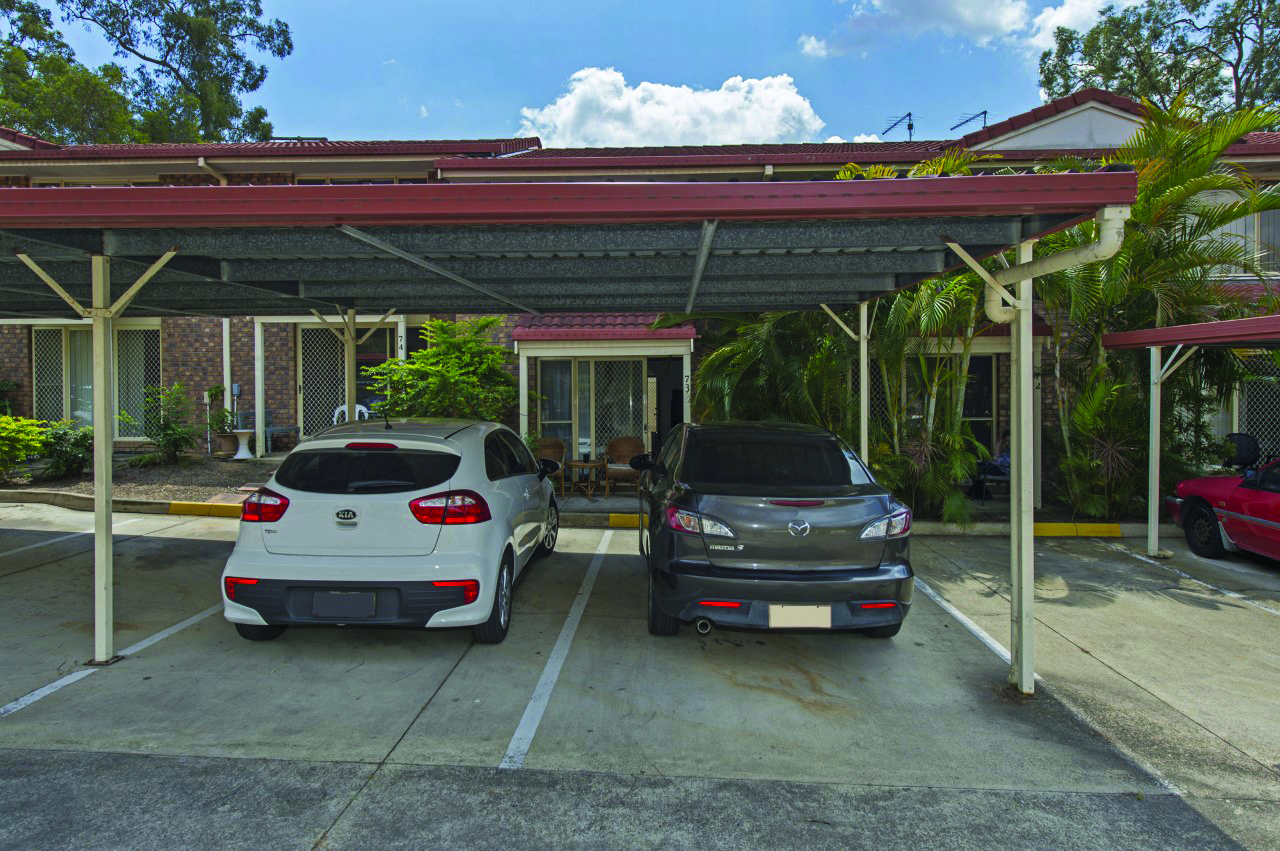 Daniel's Hillcrest townhouse brings in an 8.1% yield
Daniel adds a townhouse in Hillcrest, Queensland, to his portfolio, and another house in Melton. He intends to convert the Melton home into either a rooming house, which will attract high yields, or a dual occupancy, where half of the property will be sold.